Essentials Cover Valet CV250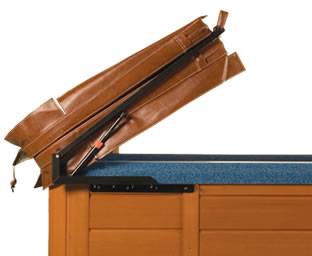 Valet CV250
£229.99 inc. P+P
If you're short of space behind your spa then this is the perfect answer, and can also be deck mounted.
Requires only 4″-6″ of clearance.
Works inside most gazebos
Mounts to edge of spa cabinet or directly to deck
When cover is open, it doubles as a privacy wall.
Durable zinc plated and powder coated finish.
Highest quality stainless steel hardware.
Accessory brackets are available to fit specific spa manufacturers' needs.
Compact packaging for easy, low-cost shipping and handling.
Features a one year limited manufacturer's warranty.
The Cover Valet™ is the world's leading premium spa cover removal system.
Dual gas springs assist in effortlessly lifting and lowering the spa cover. A locking safety feature holds the cover open until it is time to be closed. A durable powder coat finish accompanied by stainless steel hardware will ensure the lifter looks good for years to come.
The Cover Valet CV400 is designed for spas over 2100mm square, it looks the same as the CV250 but is just slightly larger but still at the same price.