Description
AquaSafe 90 First Aid oxidising additive for hot tubs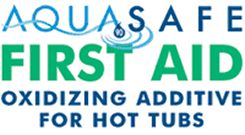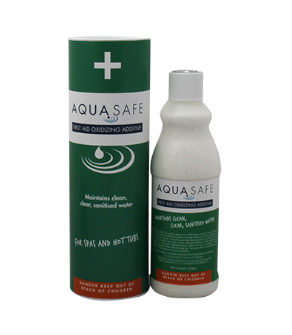 AquaSafe 90 First Aid Oxidising Additive
Maintains clean, clear, sanitised water
The AquaSafe 90 First Aid Oxidizer uses the purest form of dichlor (99%) as a tool to aid quick recovery of your spa water from smell or cloudiness. To assist in the performance of our natural product we would draw your attention to the six usefull tips detailed below to avoid artificial
fragrance additives and fake tanning creams.
The prize of chemical free water is more that worthwhile for you and your family and the environment we all live in, with our help you can achieve that goal. AquaSafe First Aid Additive will give you approx 30 treatments.
For further ease of maintenance – consider a disposable filter. These will filter particles as small as 1 micron (the best you can achieve with a normal filter is around 80 microns). It lasts between 3 and 5 months during which time there is no weekly washing and you just throw it away when full.
A monthly check for bacteria will also give you piece of mind.
DIRECTIONS Add 1/2 cap for spas up to 1200 litres and add 1 cap for spas of 1200 – 2250 litres. Sprinkle over surface of water, leave cover off and turn spa on full power for 20 minutes. Repeat as necessary.