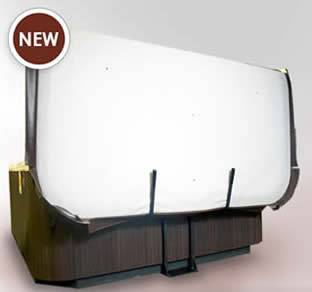 Rx
£189.99 inc. P+P
The new Cover Rx is compatible with virtually any above-ground spa on the market today. The unique under mount installation plate allows the Rx to be installed on whatever side of your spa you choose. Additionally it requires only 14″ of clearance. Whether your spa is square, rectangular, octagonal, or round the Cover Rx will be a perfect fit. Furthermore it requires no drilling into your spa cabinet. Your spa cover is supported entirely by the Rx cover lifter. Moreover it does not place any unwanted stress on the centre cover seam which translates to a longer cover life. The Cover Rx can be operated by a single user from any position you choose. For example from the side of the spa, from the back, or even inside of the spa. There has never before been a more complete spa cover lift.
Undermount design works with all spa shapes.
Requires only 14″ of clearance behind the spa.
Requires no side clearance
Works with a range of spa heights (24″ – 38″).
Single gas shock assists with raising and lowering the cover.
Constructed of high-grade powder coated aluminum.
Does not attach to cover hinge for prolonged cover life.
Features a one year limited manufacturer's warranty.