The Future – The Vortex Spas IKON
If you're looking for something different, eye catching and unique; look no further: the IKON is for you.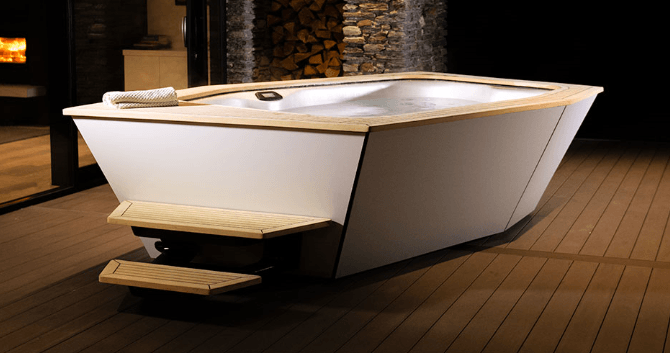 Vortex Spas IKON – from £17995.00
Includes VAT, delivery (subject to a free site survey) and starter kit.
Vortex Spas are proud to introduce the IKON. Inspired by luxury marine and modern architecture and driven by a burning desire to innovate. IKON is what happens when you start with a clean slate. remove all the clutter and focus entirely on form, function and experience. This futuristic spa was designed from the ground up with meticulous attention to detail. The IKON is a total rethink of how spa technology and modern living come together for the ultimate in style and relaxation. The IKON is a spa like no other.
The IKON is available in the following shell and cabinet colours:
Ikon Sunbrella Thermal Cover

Flexiteek Spa Decking Surround With Matching Steps

Ian Thorpe OAM Olympic Champion Swimmer And IKON Ambassador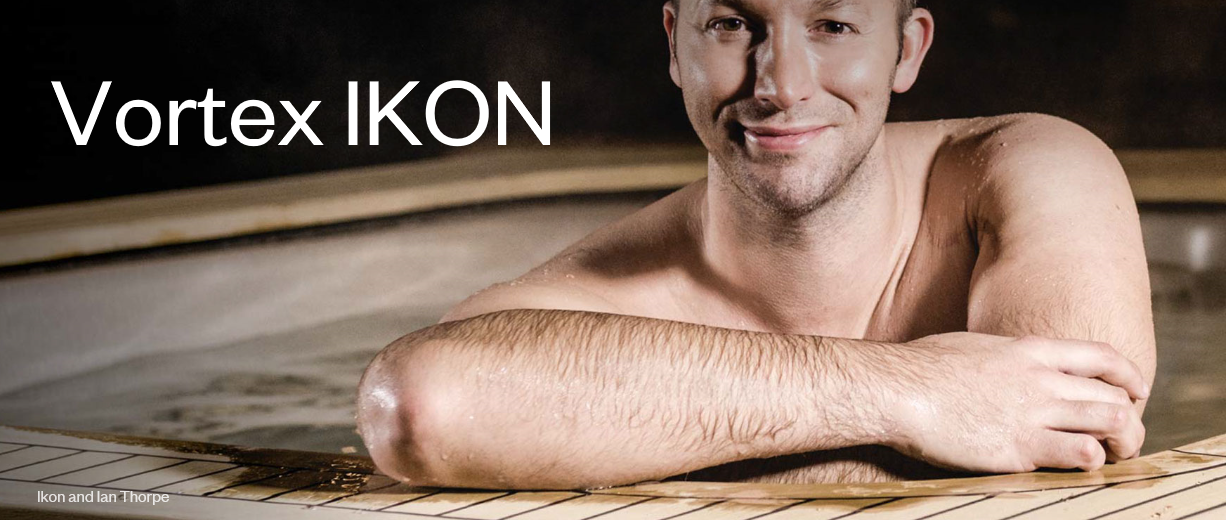 Seats: 6/7
Loungers: 2
Total Jets: 18 Stainless Steel
Dimensions: 3430mm x 2250mm x 900mm
With Steps: 3640mm x 2250mm x 900mm
Dry Weight: 430kg
Filled Weight: 1589kg
Heater: 3kW
Insulation: Premium Multi Layer Insulation
Solid ABS Base: Yes
Filter: Top Loading 50sq. ft.
Light: LED Lighting
LED Jet Lighting
Balboa Touchscreen Panel With Wi-Fi
Smart Phone App Remote Control
Ozone: Yes, Balboa
Digital Control : Balboa BP2000 Smart Touch
Flexiteek Spa Deck Surround
Electrical Requirements: 240V 16 AMP
Superior Aristech Acrylic Shell
Pumps: 2
3 Part Deluxe Thermal Hard Cover
Aluminium Composite Cabinet
Screwless Quick Release Access
Steel Frame Construction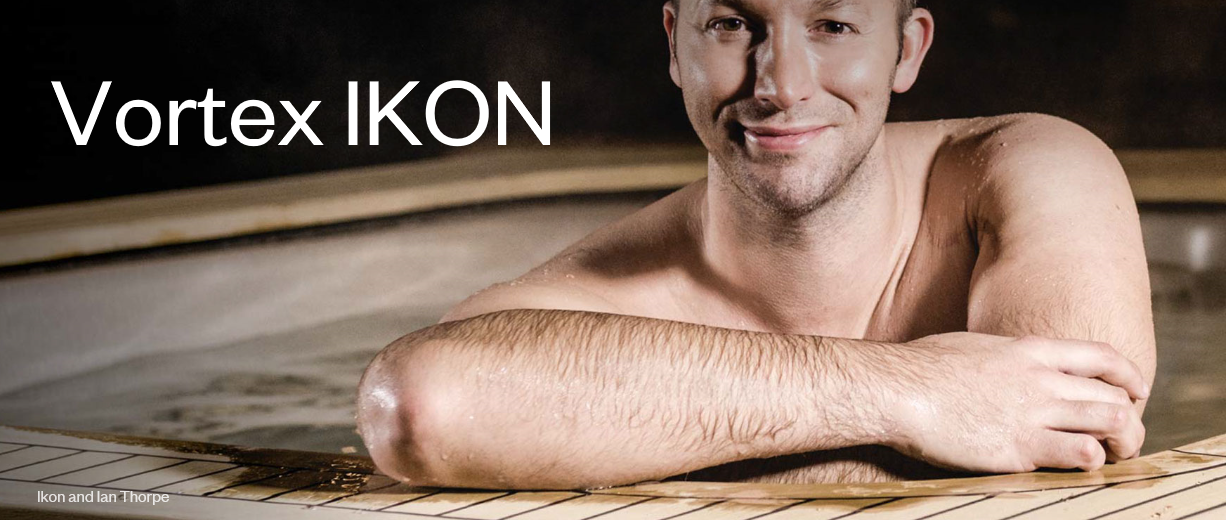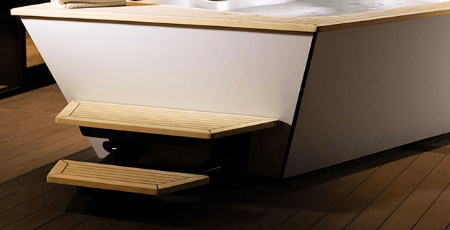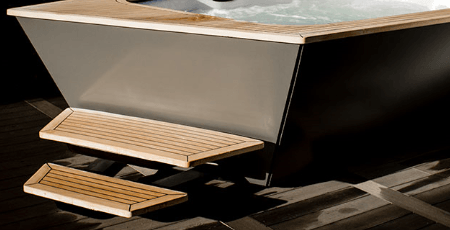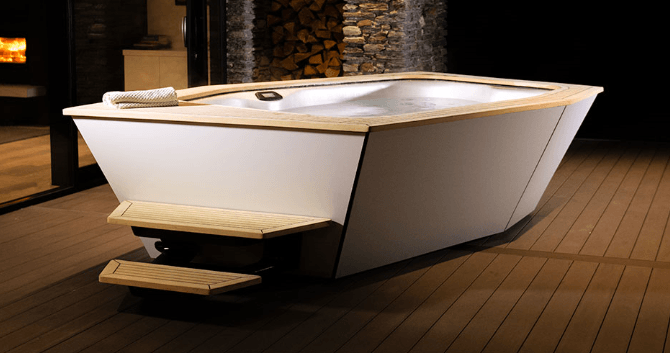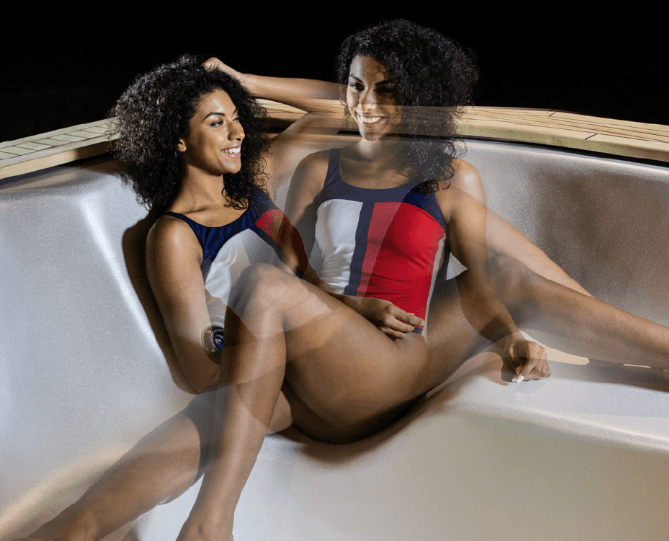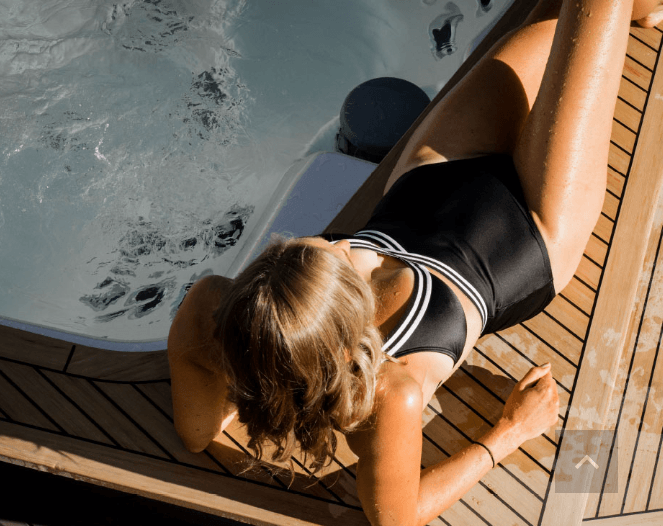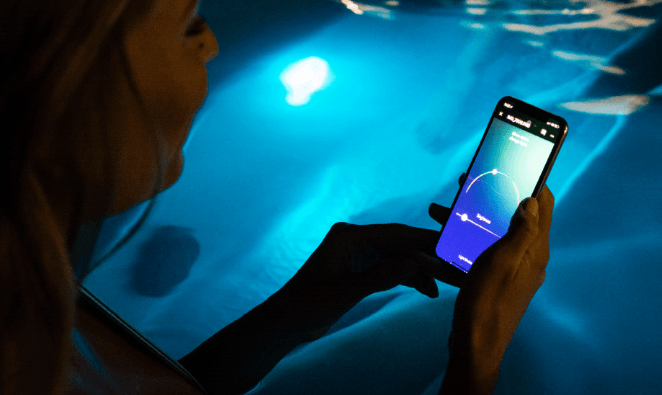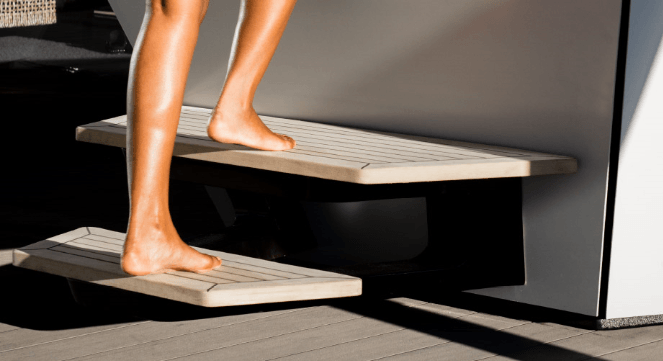 IKON takes a whole new approach to spa seating. We recognise that people like to move around and adjust their depth to regulate body temperature. Instead of being restricted to one position, IKON's gently contoured landscape seating allows you to sit naturally in multiple positions. Whether you want to lie back, sit up, swivel around or cool off, you can move easily and adjust your body for the ideal level of immersion.
Adding to new levels of spa comfort, IKON's hydrotherapy jets are discreetly distributed for maximum relief and minimal intrusion.

IKON features a maintenance free Flexiteek deck, just like those seen on super yachts the world over. The spa deck provides space to sit or lie down, yet stay close to the action, as well as room to put food, drinks and towels.
Enjoy the feeling of a luxury super yacht and all the benefits of an in-ground spa, whilst maintaining portability.

I Nowhere is IKON's architectural influence more apparent than in the choice of the aluminium composite cladding to define the striking angles of the exterior cabinet. Flush, screwless surfaces and contemporary negative detailing is combined in this high performance and maintenance free cladding, designed to complement your modern architecture and lifestyle.
IKON is available in two beautiful colours: Carbon and Cloud. Cladding that not only looks stunning but delivers high performance year after year.

IKON's jets, lighting, water temperature and setup are fully adjustable using the built in touchscreen interface, or from your smartphone app.
The Vortex app lets you control your spa mood settings. Whether you want therapeutic, relaxation or party mode, you can dial it up or tone it down to suit your mood.

With IKON, even getting in and out of your spa has undergone a total makeover. No longer an afterthought, IKON's removable floating steps project from the spa cabinet and feature a slip proof, Flexiteek surface that complements the spa deck.
Topside, IKON has a snugly fitted, folding hardcover made of high density insulating foam and secured by super yacht latch fixings. This stylish cover design is completed by a Sunbrella® fabric wrap – a premium, marine grade covering used for luxury outdoor furniture on super yachts.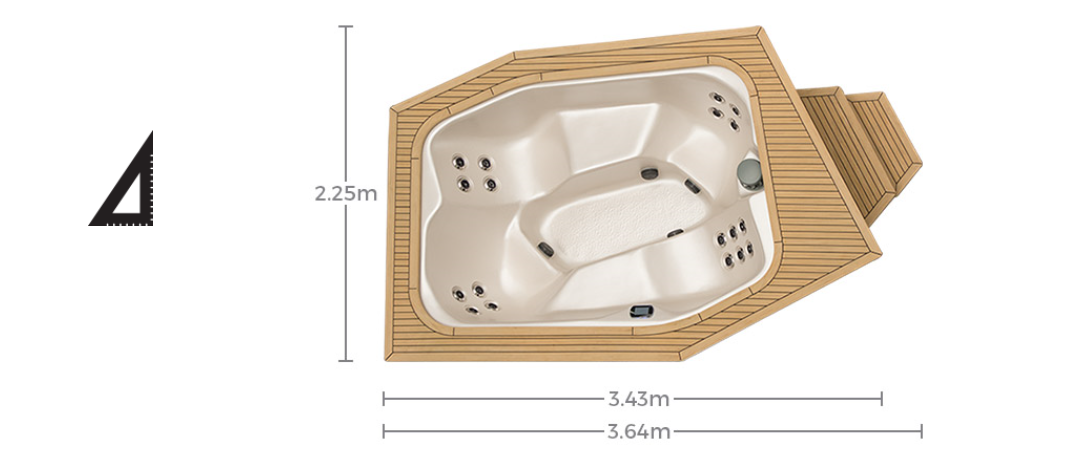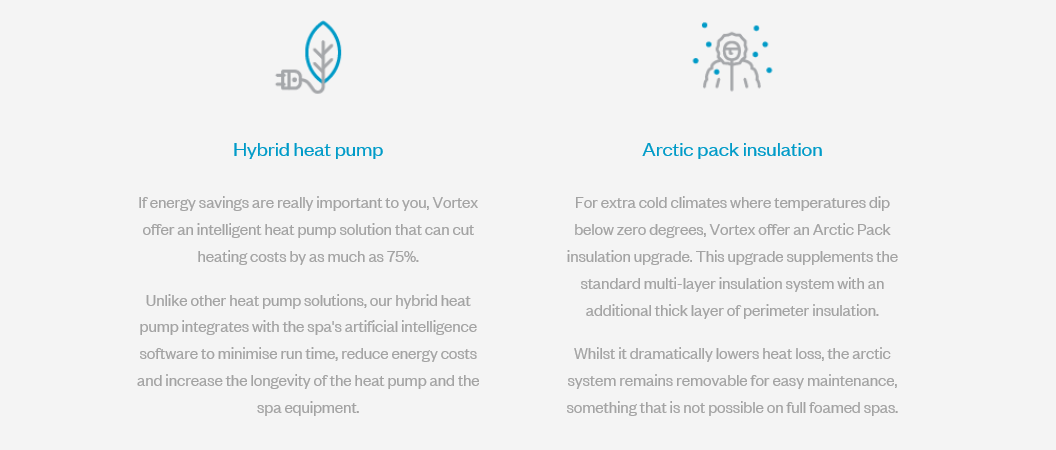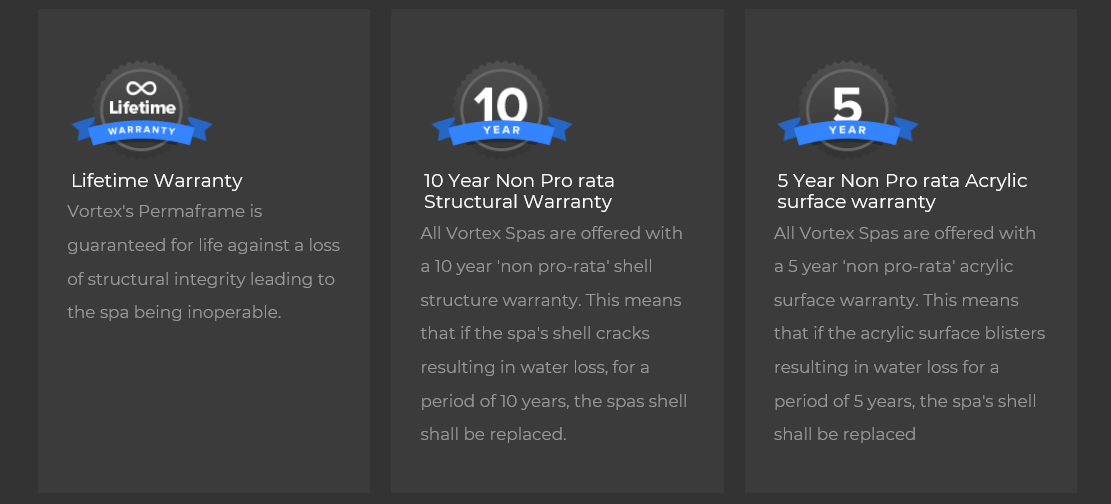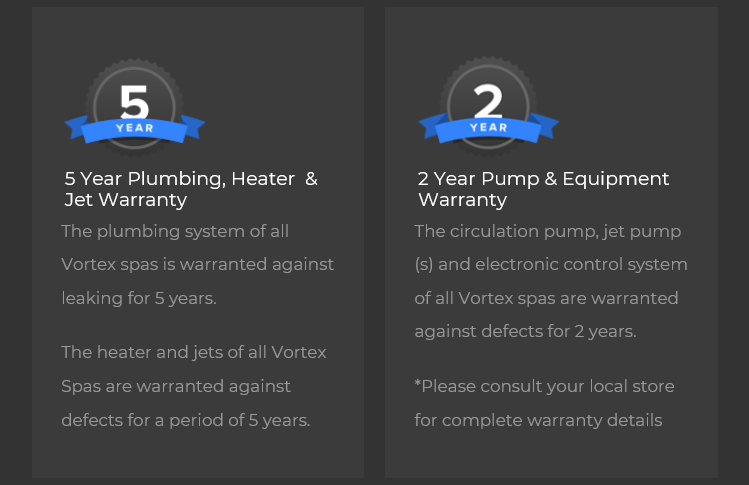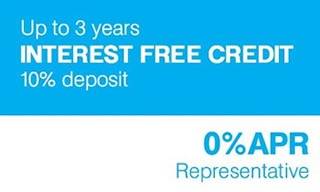 Representative Example:
Purchase Price £17995.00
Deposit £3000.00
Amount Of Credit £14995.00
36 Monthly Payments £416.53
Total Repayable £17995.00
Duration Of Agreement 36 Months
Rate Of Interest Fixed 0%
APR Representative 0%
FREE INSTALLATION
Delivery and installation in Leicestershire, Rutland and the surrounding counties will be free (subject to a free site survey) please consult us for delivery and setup costs outside this area.