Have you been concerned about the current high cost of electricity. Which of course means the cost of running your tub has increased considerably? You might be interested to know there is a way to massively reduce the energy your hot tub is using. An Air Source Heat Pump is the way to reduce the electric used by up to 75%. This is a standalone unit would be sited close to your hot tub. A series of pipes are plumbed into your existing hot tubs circulation system. Basically it would replace your current heater which would become dormant. Our Vian Heat Pump range has been especially designed to be used with hot tubs and swimspas.  
We have 4 Vian models to choose from the C5 and C5 Plus are the most popular version for  hot tubs. The C7 Plus and C9 Plus are aimed at the largest hot tubs and swimspas. All 4 models can be used with any hot tub. The larger the unit (capacity kw) the more efficient it will be and the more money it will save you in the long term.  
Please refer to the link below for more information.
https://leicesterhottubhire.co.uk/vian-air-source-heat-pumps-for-hot-tubs/
Stock is limited as the manufacturers are struggling to keep up with the demand for this money saving product. If you are interested or wish to book a "free site survey" please contact us to discuss the options.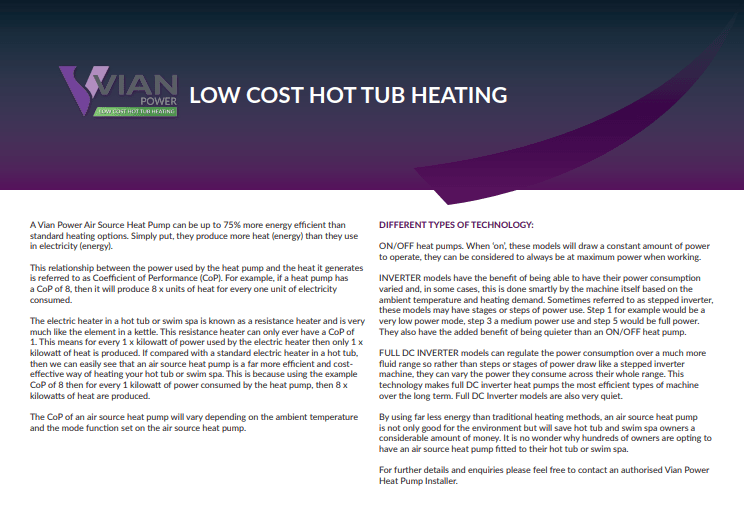 Vian Air Source Heat Pumps for hot tubs can be up to 75% more energy efficient than a standard hot tub heater. Simply put, they produce more heat (energy) than they use in electricity (energy). Not only is this a far more cost-effective solution to heat your hot tub or swim spa, but it is also much more eco-friendly option.