Hot Tub Sales – Catalina Swim Spas' Carnival Classic
11 people   28 jets





Carnival Swim Spa specifications
Carnival Classic Specification
From £POA
Seats: 11
Dimensions: 3835 x 2280 x 1300mm
Water Capacity: 5800 Lts
Weight Dry: 1000kgs
Filter: 100sq/ft
Standard Pump: 1 x 2.5hp
Booster Pump: 1 x 3.0hp
Heater: 3kw
Blower: Optional
Power Supply: 32 amp
LED Perimeter Lighting: Fitted
Stainless Steel Jets: 28
Stainless Steel River Swim Jets: 2
Pro Swim System: Fitted
Exercise Equipment: Optional
Carnival Classic XP Specification
From £POA
Seats: 11
Dimensions: 3810 x 2280 x 1300mm
Water Capacity: 5800 Lts
Weight Dry: 1000kgs
Filter: 100sq/ft
Standard Pump: 1 x 2.5hp
Booster Pump: 2 x 3.0hp
Heater: 3kw
Power Supply: 40 amp
LED Perimeter Lighting: Fitted
Stainless Steel Jets: 28
Stainless Steel River Swim Jets: 2
Pro Swim System: Fitted
Exercise Equipment: Optional
Carnival Aquadynamic Specification
From £POA
Seats: 11
Dimensions: 3810 x 2280 x 1300mm
Water Capacity: 5800 Lts
Weight Dry: 1000kgs
Filter: 100sq/ft
Standard Pump: 1 x 2.5hp
Booster Pump: 3 x 3.0hp
Heater: 3kw
Power Supply: 55 amp
LED Perimeter Lighting: Fitted
Stainless Steel Jets: 28
Stainless Steel River Swim Jets: 3
Pro Swim System: Fitted
Exercise Equipment: Optional
Each Carnival Swim Spa features
Balboa control system
Overlap Shell Finish
Waterproof Spa Base
Underwater LED Light
LED Perimeter Lighting
Tiled Swim lane
Tiled Waterline
Pro-Swim System
Ozone
Thermo Pane High Density Foam Insulation
Deluxe UL Listed Insulation/Safety cover
Chemical Starter Kit
Carnival Swim Spas have the following upgrade Options
LED Topside Controls
2 LED Cascading Waterfall
LED Crystal Water Fountains
2 Cabinet Accent Lights
LED Jets
Exercise Equipment
Turbo Charged Hot Air Blower
WiFi Remote App
Bluetooth Stereo with Subwoofer
Also available:
Steps
4 Tread synthetic 1.9M x 810mm Swimspa step
4 Tread synthetic 910mm x 810mm Swimspa step
3 Tread synthetic 910mm x 810mm Swimspa step
Cover lifters
Base Mount Cover Lifter
Top Mount Gas Assist Cover Lifter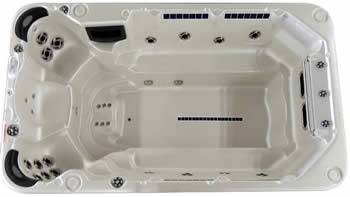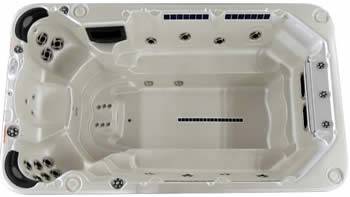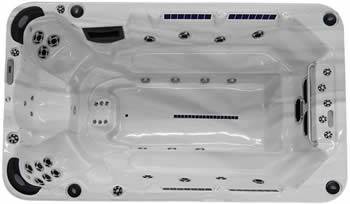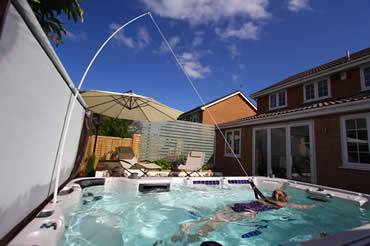 10401182_70143616720_2903179_n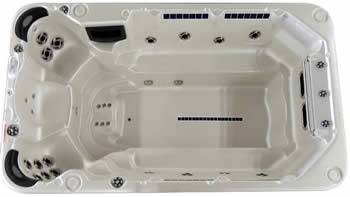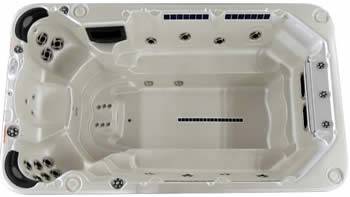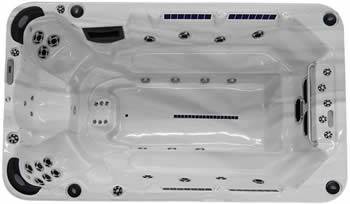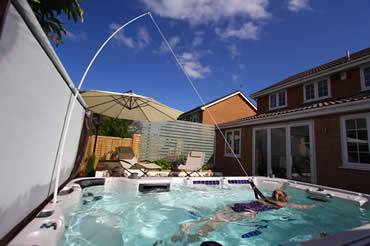 The Catalina Carnival is a Swimspa, Swimtrainer and Party Spa, following the success of the Mardi Gras the Carnival is a swim trainer and party spa without equal. 
It features 2 semi reclined deep massage seats and bench seating, with back jets, for an additional 8 people! It also has the Catalina Pro Swim training System gives you a low-impact, full-body workout which builds muscle, increases endurance and burns calories. This swim trainer provides the same workout as swimming in a pool without the need to turn! 
The powerful pumps can be diverted to the river swims jets to offer a comfortable swim or aqua jog and for the serious swimmer or workout use the Catalina 'pro swims system' that simply cannot be beaten.
Delivery and installation in Leicestershire and Rutland will be free, for all other locations please contact us for delivery and installation costs.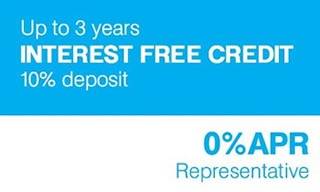 FREE INSTALLATION
Delivery and installation in Leicestershire, Rutland and the surrounding counties will be free, please consult us for delivery and setup costs outside this area.