Description
AquaSafe 90 Natural Spa Clarifier.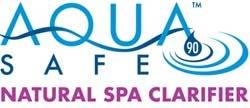 FOR SPAS, HOT TUBS AND SWIMMING POOLS.
Naturally clarifies cloudy water. Eliminates oil, scum and excess metals.
Safe to use with all sanitizers. Likewise m
akes cleaning filters quicker and easier.
Reliable, safe and effective
Aquasafe Spa Clarifier is created for people who are sensitive to chemicals.
NON TOXIC TO ANY LIVING CREATURE.
AquaSafe Spa Natural Clarifier outperforms other clarifiers. For example in removing dirt and oil from spa and hot tub water. When used regularly, this effective formula also keeps metals down. Equally removes oils and keeps the filter cleaner longer.
Unlike synthetic, petroleum-based clarifiers. Similarly this Natural Clarifier actually removes oils from the water. This unique technology reliably keeps spas and hot tubs clear and clean, easily and effectively. Additionally it is also a very effective treatment for swimming pools.
DOSAGE.
Standard dosage: Use 1 fluid oz (30ml) of AquaSafe Spa Natural Clarifier for every 500 gallons of spa or hot tub water. No premixing required.
Cloudy water dosage:

For especially dirty or cloudy water, double or triple the standard dosage.
DIRECTIONS FOR USE.
Weekly maintenance: To keep spa or hot tub water clear and clean. Try AquaSafe Spa Natural Clarifier once a week at the standard dosage. For spas and hot tubs that get heavy use or for commercial spas and hot tubs, AquaSafe Spa Natural Clarifier may be used twice
weekly. For instance at double or triple dosage.
1. Make sure filter is clean and all equipment is working properly.
2. Add the calculated amount of AquaSafe Spa Clarifier into spa or hot tub with filter running. Meanwhile run jets on high. Finally run filter system continuously for at least one hour after application.